Desde hace un rato, el mundo de la música fue testigo de un gran acontecimiento. Jack White regresaba con material nuevo de solista, titulado Boarding House Reach; el cual saldrá a la venta, para el público en general, el 23 de Marzo.
Pero no hay por qué llorar o rezar para que comiencen a comerciar viajes en el tiempo. Ya se han dado a conocer 3 canciones que estarán incluidas en el álbum.
La primera,"Respect Commander"; la segunda, "Connected by Love" y, la más reciente, "Corporation" en la queha logrado incorporar la distorsión de las guitarras  con ritmos funk y tribales. Algo que solo Jack White podría lograr.
Este nuevo disco contará con un total de 13 temas:
"Connected By Love"
"Why Walk A Dog?"
"Corporation"
"Abulia And Akrasia"
"Hypermisophoniac"
"Ice Station Zebra"
"Over And Over And Over"
"Everything You´ve Ever Learned"
"Respect Commander"
"Ezmerelda Steals The Show"
"Get In The mind Shaft."
"What´s Done Is Done"
"Humoresque"
Además, ya se ha dado a conocer una edición limitada, Vault Package #35, de la que puedes saber su descripción extensa dando clic aquí.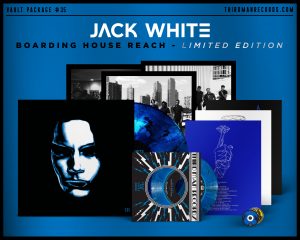 Sin más por el momento, los dejamos con "Corporation", de Jack White. Disfrútenla.