Billie Joe Armstrong es mayormente conocido por su larga trayectoria como el vocalista de Green Day, aun así, el músico también ha tallado perseverantemente su camino como solista, y ahora anunció un nuevo álbum que compilará los covers de su más reciente proyecto titulado No Fun Mondays. 
No Fun Mondays fue lanzado el mes de marzo a principios del confinamiento por el coronavirus, y Joe Armstrong se ha mantenido enfocado en su música y en la unión familiar durante todo este tiempo.
"Mientras que todos hemos estado en cuarentena, he reflexionado sobre las cosas que importan más en la vida: familia, amigos y por supuesto, la música … me di cuenta que, si tenemos que pasar este tiempo en aislamiento, al menos podemos estar solos unidos" comentó el músico.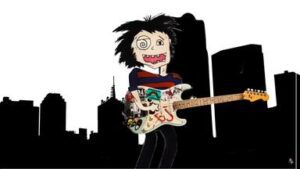 Este nuevo álbum compilatorio de covers será estrenado el 27 de noviembre e incluye las 12 canciones del proyecto. 'Manic Monday' de The Bangles, 'Kids In America' de Kim Wilde y 'Police On My Back' de The Equals serán algunos de los covers incluidos en el material.