La semana pasada se reveló el cartel oficial del Festival Pal Norte 2018. Evento que se llevará a cabo dentro de unos meses.
Este año los organizadores quieren superar los números de la sexta edición, que contó con 170 mil asistentes. Haciendo de esta manera, un completo sold out.
En una conferencia de prensa se dio a conocer los días en los cuales el festival se realizará. Los próximos 20 y 21 de abril habrán siete escenarios dentro de Parque Fundidora en Monterrey.
Talento del Pal Norte 2018
Los artistas que conforman el line up de esta edición son: Muse, Queens  Of The Stone, Justice, Franz Ferdinand, Molotov, Natalia Lafourcade, Morat, Enjambre, Fobia, Elsa y Elmar, Zoé, Sebastian Yatra, entre muchos otros más.
Sin duda, con un cartel lleno de diversos géneros para todo tipo de gustos musicales es posible que el Festival Pal Norte 2018 rompa su récord de asistencia.
Venta de boletos
Las entradas salieron a la venta el pasado 15 de diciembre. Sin embargo, a poco menos de dos semanas ya se encuentran en fase 6.
Puedes adquirirlos por un precio de $ 2, 160 mxn (más cargos por servicio). Cabe destacar que este precio incluye los boletos para los dos días en sección general.
Ahora bien, si quieres estar en la zona VIP, tendrás que pagar un precio de $ 3,660 mxn (más cargos por servicio).
Pero para que te animes y decidas comprar tus boletos antes de que se acaben, ¡te dejamos el cartel oficial!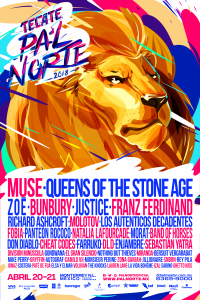 Quizá te interese: