La agrupación neoyorkina liderada por Jonathan Pierce hizo oficial la noticia de un show digital especialmente para los fanáticos mexicanos de la banda. Este evento de The Drums llega como parte de la línea de conciertos de OCESA IRREPETIBLE.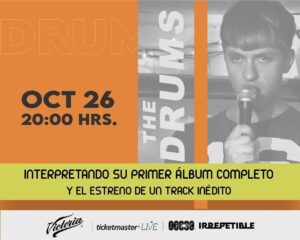 La banda interpretará en el livestream su más reciente y destacado repertorio de canciones. Cabe destacar que será una tarde muy especial para el grupo, ya que la iniciativa del concierto nació para conmemorar el décimo aniversario de su álbum debut homónimo. Además, The Drums regalará a su público presente la oportunidad de escuchar en vivo y en directo una canción jamás conocida.
Las entradas para el concierto en línea ya están disponibles a través de Ticketmaster Live. La presentación se llevará a cabo el próximo 26 de octubre, no te quedes sin boletos.